VACANCY CIRCULAR NO 1 OF 2022
RECRUITMENT OF THE 2022 NATIONAL POPULATION AND HOUSING CENSUS ENUMERATORS
The main objective of the Population and Housing Census is to take a count of all human population and housing units in the country. Census provides information for evidence-based development planning, making administrative and policy decisions, and baseline for research works undertaken by institutions/organizations, businesses and individuals.
The census will cover all areas (localities) where people reside in Botswana. This includes cities, towns, villages, lands and cattle post and farm areas.
The Government of Botswana is seeking to recruit highly motivated, energetic and innovative, persons to apply the following position in FRANCISTOWN;
CENSUS ENUMERATORS (288 POSITIONS)
MAIN PURPOSE OF THE JOB
Timely collection (enumeration) of data from all the dwellings/households in the assigned EA within The census period, as well as, adhere to quality standards as prescribed for statistical operation, procedures and processes.
DUTIES AND RESPONSIBILITIES
Ensure that you have all the necessary ICT gadgets and accessories, and equipment and materials to be used for enumeration
Ensure that your equipment (tablet and its accessories) is kept safe, and returned to the supervisor in good working condition at the end of enumeration;
Ensure that the tablet is fully charged before the start of enumeration
Identify assigned Enumeration Area (EA), locate all dwelling units and visit every household in the area assigned;
Administer all questions and record information of all persons who usually live with the household, |present or absent) and those visiting, who spent lire night with the household.
Also, make every effort to obtain complete and accurate answers and record them correctly and accordingly:
Synchronize or share (Bluetooth) your daily completed household interviews, with your supervisor.
To call back (revisit) on households or respondents that could not be interviewed during earlier visits;
Prepare brief notes for the supervisor on any problems/noteworthy issues encountered and report them daily.
QUALIFICATIONS
A Diploma in; Statistics, Economics, Population Studies, Demography, Mathematics. Information Technology, Cartography and GIS. Business Administration/Management, and Environment Science
EXPERIENCE
Fieldwork experience will be an added advantage
Fluency in local language(s) (vernacular spoken in the respective district)
Technical competencies
Knowledge of field methods and techniques
Ability to administer interviews and accurately record responses
Basic knowledge and use of smartphone
Communication and Interpersonal Skills
NB:
Applicants must be citizens of Botswana aged between 18 and 45 years old.
Applicants should be living and staying within the locality/area or having a home where they can slay during the period of assignment.
There will be no accommodation or camping facilities provided.
Upon successful completion of training, successful candidates will be assigned an Enumeration Area within the place residence or nearest, as shall be indicated in the application. Thus, an enumerator will be staying at their usual residence.
Successful candidates should be physically fit and able to walk reasonably long distances while conducting interviews.
Enumeration processes and travel start at 06:00 hours and end at 20:30 hours per day. with starling a new interview stopping by 20:00 hours.
All applicants to fill in a separate sheet with the details as provided below.
WE ARE STILL MAKING CVs FOR P100. COVER LETTERS FOR P50
Pay with FNB EWallet to 76981238 or Orange Money on number 76981238
Whatsapp us on +26776981238

More Information
JOB APPLICATION DETAILS

APPLICATION DETAILS

Prospective candidates meeting the above requirements should quote the reference number of the position and submit applications together with Certified copies of Certificates, ID and names and addresses of two referees to the following addresses:

Postal Address;

District Commissioner, Private Bag F1, Francistown
Or hand deliver to;
Ntshe House
Ground Floor, Office No 1.75
For further information contact Mr. Oageng on 2411929/Mr. Moengele on 2455452 and/or Mr. Isaac on 2416235
Closing Date: 24th January 2022

For any enquiries please contact Human Resource Department at 5443923/7
Please say that you got this job advertisement through Jobs Botswana

New Job Alert
Never miss a chance!
Let us know your job expectations, so we can find you jobs better!
Get daily latest jobs in your email
Get a Scholarship at IU International University of Applied Sciences for MBA, Bachelors and Masters Degrees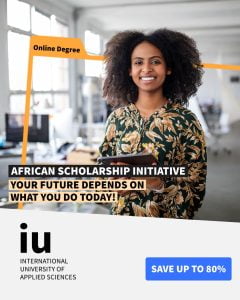 To get your scholarship click on the link below, then CLICK on Request Free Information and complete the form. After successful completion, an IU representative will contact you asking for your qualifications and details for scholarship eligibility.