THE IDEAL CANDIDATE SHOULD HAVE:
Installation and configuration of network infrastructure.
Installing and configuring computer hardware components.
Install and configure appropriate software and functions according to specifications.
Installing and upgrading anti-virus software to ensure security at the user level
Performing tests and evaluations of new software and hardware.
Setting up workstations with computers and necessary peripheral devices (routers, printers etc.)
Diagnosing and troubleshooting software and hardware issues.
Perform troubleshooting and resolve problems of Hardware
and Software. (Diagnose, repair or replace parts, debugging etc.)
Troubleshooting and resolve problems of devices such as Server Computers. Personal Computers, Laptops, Switches, Routers, Printers etc.
Repairing and replacing damaged computer and network components.
Managing technical documentation.
Good Communication, Documentation and Report skills
Degree Computing or equivalent
1 year experience added advantage
WE ARE STILL MAKING CVs FOR P100. COVER LETTERS FOR P50
Pay with FNB EWallet to 76981238 or Orange Money on number 76981238
Whatsapp us on +26776981238

More Information
JOB APPLICATION DETAILS

APPLICATION DETAILS
Email CV and cover letter to [email protected]

Please say that you got this job advertisement through Jobs Botswana

New Job Alert
Never miss a chance!
Let us know your job expectations, so we can find you jobs better!
Get daily latest jobs in your email
Get a Scholarship at IU International University of Applied Sciences for MBA, Bachelors and Masters Degrees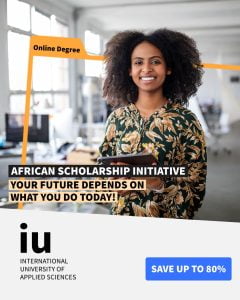 To get your scholarship click on the link below, then CLICK on Request Free Information and complete the form. After successful completion, an IU representative will contact you asking for your qualifications and details for scholarship eligibility.