ST. BERNADETTES SECONDARY SCHOOL
G/WEST
P.O. Box 601634 Gaborone
Tel: 3187 043. Cell: 74 673 402
TEACHERS WANTED
Subjects: Chemistry / Biology / Physics/Mathematics / Agriculture / English / Geography / Commerce & Office Procedures / Social Studies / Religious Education / Commerce / Moral Education / Setswana
QUALIFICATIONS/ EXPERIENCE.
Minimum: Degree in relevant Subjects.
5 Years Teaching Experience in Senior School.
ONLY QUALIFYING CANDIDATES
TO BE CONTACTED FOR INTERVIEWS
Closing Date: 26th May 2022
WE ARE STILL MAKING CVs FOR P100. COVER LETTERS FOR P50
Pay with FNB EWallet to 76981238 or Orange Money on number 76981238
Whatsapp us on +26776981238

Get daily latest jobs in your email
Get a Scholarship at IU International University of Applied Sciences for MBA, Bachelors and Masters Degrees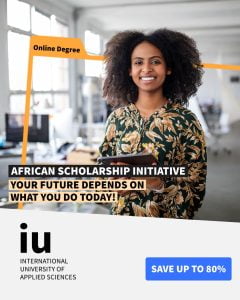 To get your scholarship click on the link below, then CLICK on Request Free Information and complete the form. After successful completion, an IU representative will contact you asking for your qualifications and details for scholarship eligibility.