EMPLOYMENT OPPORTUNITY
The Botswana Teachers Savings and Credit Co-operative Society Ltd was established to bring together a social security for teachers in Botswana. The Society exists to promote thrift among its members by affording them an opportunity for accumulating their savings, and to create a source of funds from which loans can be made exclusively for provident and productive purpose, at fair and reasonable rates of interest thereby enabling them to use and control their money for their mutual benefits.
The Society invites suitably qualified individuals to apply for the below mentioned position tenable in Gaborone.
RISK COMPLIANCE OFFICER
KEY RESPONSIBILITIES:
To ensure that the Society is not exposed to criminal risk, and does not inadvertently facilitate financial crime:
To facilitate the development, implementation, and maintenance of an anti-money laundering programme within the society;
To ensure compliance with Anti Money Laundering (AML) regulations, and other relevant legislation ;
To develop and maintain a risk assessment framework for product and services, clients and customers and other issues relating to money laundering;
To prepare reports for review and consideration by senior management and the Management Board of the cooperative society;
To be accountable for the implementation of risk policies and provide feedback on compliance of the Society to the Management Board;
To prepare risk assessment report on regular basis as required by the Senior Management/Management Board and for each accounting reference period or financial year;
To ensure the risk assessment report prepared depicts and reflects a true and fair view of the state of affairs of the Society at the end of the accounting reference period.
QUALIFICATIONS CONSIDERED NECESSARY
A minimum of a Diploma in Accounting and Business Studies or Association of Accounting Technician level 4 (AAT) or equivalent with a major in accounting, training on risk management will be an added advantage.
SALARY
We offer a competitive salary.
BENEFITS
Optional Contributory Medical Aid Scheme (Cooperative Society pays 50% Employee 50%)
Contributory Pension Fund Scheme (Cooperative Society pays 15% and Employee 5%).
WORK EXPERIENCE
At least three years (3) post qualification experience in an equivalent position
Possession of a valid driver's license (class B) will be an added advantage.
TRAINING
Co-operative Management and Development
Risk management
Savings and Credit Co-operative Management.
REQUIRED SKILLS AND COMPETENCIES
Skills
Computer literacy
Strong analytical skills
Time management
Competences
Decisiveness and Accountability
Team player
Technical Proficiency
Integrity and trust
Drive for Results
Strategic Business Thinking
Initiative
Meet deadlines
More Information
JOB APPLICATION DETAILS

APPLICATION DETAILS
How to apply:

To apply for this post, please send a CV and cover letter of application to:

The Manager,
Botswana Teachers Savings and Credit Cooperative Society,
Private Bag BO 78, Bontleng - Gaborone
Application deadline: Close of Business Day 15th December 2021.
The Botswana Teachers Savings and Credit Cooperative Society is an equal opportunity employer and welcome applications from appropriately qualified Botswana from all sections of the community.

Please say that you got this job advertisement through Jobs Botswana

New Job Alert
Never miss a chance!
Let us know your job expectations, so we can find you jobs better!
Get daily latest jobs in your email
Popular Jobs This Week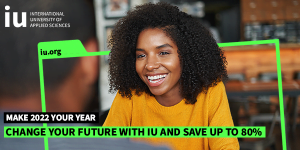 Make 2022 your year – Get up to 80% off an IU International University of Applied Sciences degree and change your future  
To get your scholarship click on the link below, then CLICK on Request Free Information and complete the form. After successful completion, an IU representative will contact you asking for your qualifications and details for scholarship eligibility.