Bokomo Botswana (Pty) Ltd is a leading producer of wheat, maize and sugar products (White Star Super Maize Meal, Bokomo Flour and Pure Sugar). The locally manufactured products and an extensive basket of FMCG products are distributed throughout Botswana from its premises in Gaborone. These include well-known brands like Weet-Bix. Heinz. Bokomo Cornflakes. Spekko Rice. Ceres and Fmitree beverages. Wellington Sauces, Nature Source, FutureLife, Safari range of Dried Fruits and Nuts and Salads Moirs, Simba snacks etc.
DISPATCH SUPERVISOR
Reporting to the Distribution Superintendent, the incumbent will be responsible for coordinating and supervising the daily activities of the dispatch section.
Required Outputs:
Responsible for route planning to ensure adherence to nominated delivery days thereby ensuring achieved delivery commitments.
Responsible for ensuring optimal truck utilisation.
Ensuring an efficient and effective goods verification process between Warehouse and dispatch personnel as well as between dispatch and delivery crew.
Ensure all goods being dispatched are accompanied by corresponding documentation.
Ensuring PODs and GRRs are collected from customers.
Daily monitoring of all warehouse housekeeping cockpits and ensure corrective measures.
Perform administrative duties within agreed parameters and SOPs.
Monitoring of efficient and effective filing of load sheets, Pallets forms and Seal books to enable easy retrieval for future reference.
Ensure shift update report is sent at the end of every shift.
Staff training and building of effective team are met
Qualifications and Experience:
Advanced Certificate or Higher qualification in Materials Management. Computer literacy is essential and one should have at least 3 years of warehouse/ distribution/logistics work experience. Knowledge of EWMS and (warehouse management system) is advantageous. Experience in an FMCG environment will be an added advantage.
Competencies:
Planning and organising
Problem solving
Communication and interpersonal skills Analytical
Proactive
Team player
WE ARE STILL MAKING CVs FOR P100. COVER LETTERS FOR P50
Pay with FNB EWallet to 76981238 or Orange Money on number 76981238
Whatsapp us on +26776981238

More Information
JOB APPLICATION DETAILS

APPLICATION DETAILS
[email protected]
Closing date: 03 June 2022
(Will only reply to shortlisted candidates)

Please say that you got this job advertisement through Jobs Botswana

Get daily latest jobs in your email
Get a Scholarship at IU International University of Applied Sciences for MBA, Bachelors and Masters Degrees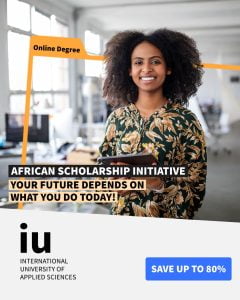 To get your scholarship click on the link below, then CLICK on Request Free Information and complete the form. After successful completion, an IU representative will contact you asking for your qualifications and details for scholarship eligibility.