RECRUITMENT OF FIELD SUPERVISORS FOR THE 2022 POPULATION AND HOUSING CENSUS
The main objective of the Population and Housing Census is to take a count of all human population and housing units in the country. Census provides information for evidence-based development planning, making administrative and policy decisions, and baseline tor research works undertaken by institutions/organizations. businesses and individuals.
The census will cover oil areas (localities) where people reside in Botswana. This includes cities, towns, villages, lands and cattle post and farm areas.
"he Government of Botswana H seeking to recruit highly motivated, energetic and Innovative, persons to fill the following position in the Lobatse Town;
REF: 272022 – FIELD SUPERVISORS (19)
MAIN PURPOSE OF THE JOB
To closely monitor and supervise enumerators and all other enumeration processes with a view to ensure full coverage of assigned enumeration areas. The supervisor also ensures that transport, census instruments and materials are availed to enumerators.
DUTIES AND RESPONSIBILITIES
Assists in organising and conducting enumerators training, that is. act as technical resource person in training of the enumerators
To carry out necessary preparations, organize and direct the fieldwork.
Monitors and supervises enumerators and resource usage (fieldwork equipment and vehicles)
Supervises all the other loam members (drivers, enumerators.)
Attends to refusals as and when enumerators report the cases.
Ensures the smooth running of operations in the field, including transport, accommodation, stationery supplies, etc.
Writes and authorizes vehicle log books for official trips.
Responsible for the well-being and safety of learning members, as well as the completion of the assigned workload and the maintenance of data quality.
Ensures that all labels and other census equipment are In good working condition and if there are any issues reports to the Census Technical Officer.
Conducts spot checks |re-imerviews}. code data from enumerators and transfer it to headquarters (server) on o daily basis.
Prepares a summary report from all assigned enumerators' EAs for reporting to the CTO or DCO.
Use the individual enumerator's summary reports to monitor their performance and progress with an aim to improve and maintain the quality of the data collected.
Responsible for making sure that completed questionnaires are checked, coded and sent to Data Management team _ HQ server
Ensure the confidentiality and security of information at all times
Undertake sample checks and field accompaniments, and verification of a sample of completed questionnaires
Ensure that all the dwelling units in the EA are covered (visited) and all households in the dwellings have been identified and interviewed
Ensure that data collection work is completed within the required timescale and to the required standard
OVERALL SUPERVISION
Identifies EA's and their boundaries
Mainto ns good relations with the public
Monitors the progress of the census enumeration
Close supervision of enumerators work
Enumerates in situations where the enumerator Is not available
Plan work of enumerators, estimate resource needs, assign tasks and supervise their work
Consults with the CTO or DCO on any staff-related issues
Provides advice and guidance as and when required to the subordinates
Use the enumerators' summary reports for monitoring the progress of enumerators in the assigned supervision area to update CTO and DCO on the enumeration progress in his/her area.
Performs any other duties as assigned by the CTO
QUALIFICATIONS
A Degree In Statistics. Economics. Population Studies. Demography, Mathematics, Cartography and GIS, Business Administration/ Management, and Environment Science
EXPERIENCE
Field work experience will be an added advantage
Fluency in local language(s) (vernacular spoken in the respective district)
Technical competencies
Knowledge of field management practices, methods, techniques, principles etc.
Computer literate
Applicants must be citizens of Botswana aged between 18 and 45 years old.
Applicants should be living and staying within the locality/area or having a home where they can stay during the period of assignment.
There will be no accommodation or camping facilities provided.
Upon successful completion of training, successful candidates win be assigned an Enumeration Area within the place residence or nearest, as shall be indicated in the application. Thus, an enumerator will be staying at their usual residence.
Successful candidates shall be physically fit and able to walk reasonably long distances while conducting interviews.
Enumeration processes and travel start at 06:00 hours and end at 20:30 hours per day. with starting a new Interview stopping by 20:00 hours.
All applicants to fill in a separate sheet with their details as provided below.
WE ARE STILL MAKING CVs FOR P100. COVER LETTERS FOR P50
Pay with FNB EWallet to 76981238 or Orange Money on number 76981238
Whatsapp us on +26776981238

More Information
JOB APPLICATION DETAILS

APPLICATION DETAILS

Prospective candidates meeting the above requirements should quote the reference number of the position and submit applications together with Certified copies of Certificates, ID and names and addresses of two referees to the following addresses:

Postal Address:
Private Bag 02 Lobatse

Office of District Commissioner

Or hand deliver to;
Civic Centre

Plot no. 1062

Maokaneng East

Office of District Commissioner

Records Management Unit/ Accounts

Office no. 53
Closing Date: 24 January 2021
For further information please contact District Census Officers at the following contacts: K. Sethale -5334228 and S. Motano- 5305940

Please say that you got this job advertisement through Jobs Botswana

Get daily latest jobs in your email
Get a Scholarship at IU International University of Applied Sciences for MBA, Bachelors and Masters Degrees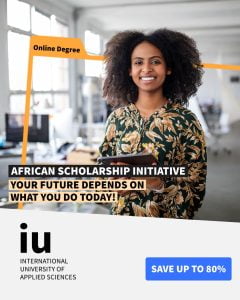 To get your scholarship click on the link below, then CLICK on Request Free Information and complete the form. After successful completion, an IU representative will contact you asking for your qualifications and details for scholarship eligibility.