Career opportunity with BancABC, part of Atlas Mara
There are exciting career opportunities available at BancABC for self-motivated individuals with outstanding integrity, a good track record of performance, excellent oral and written communication as well as strong interpersonal skills. As part of its growth strategy, the bank is looking for experienced candidates with suitable technical competencies to take up the following opportunity:
IT Junior Projects Officer
Main Purpose
As the IT Junior Projects Officer, you will be expected to assist with the delivery of assigned IT projects and programs, within specified criteria of time, scope, cost and quality. The role includes handling project support functions, tracking the progress of the projects and develop reports on progress, milestones and budget. The incumbent will be expected to interface with System Integrators to deliver work.
Key Requirements
Strong familiarity with project management software tools, methodologies, and best practices, solid technical background, project planning and management skills, performance management and interpersonal skills.
WE ARE STILL MAKING CVs FOR P100. COVER LETTERS FOR P50
Pay with FNB EWallet to 76981238 or Orange Money on number 76981238
Whatsapp us on +26776981238

New Job Alert
Never miss a chance!
Let us know your job expectations, so we can find you jobs better!
Get daily latest jobs in your email
Get a Scholarship at IU International University of Applied Sciences for MBA, Bachelors and Masters Degrees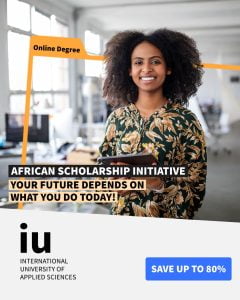 To get your scholarship click on the link below, then CLICK on Request Free Information and complete the form. After successful completion, an IU representative will contact you asking for your qualifications and details for scholarship eligibility.