Salary: P20 000 – P30 000 per Couple and Executive House on Site Location: Botswana – – (Near Lobatse)
Employer Type: Game Farm & Lodge
Job type: Accounts & Finance, Catering, Food & Beverage, Front Office, Concierge & Reservations, General Management / Unit Management, Guest Relations, Health & Spa, Housekeeping, HR & Training. Maintenance, Management Couples, Operations/Area Management Job reference: ManongOpOOl
Job description:
A 40 Room Game Lodge with Large Conferencing Facilities is needing a strong Management Couple to run the Lodge. The Couple will be jointly responsible for the Guest Services and Guest Experience. A strong, hands-on management approach and presence will be required. The successful candidates must be able to manage staff according to business demands. The couple must have a sound knowledge of basic accounts, Reservations, Marketing and HR. They will be responsible for purchasing all items for the lodge including Food and Beverage in line with the set budgets. Welcome and check-in. Rooms Division, Food & Beverage, Conferencing as well as managing Guest activities, Game Drives, Paintballing, Segway tours and Spa will be a major part of the couple's role. One person will be responsible for Maintenance, Guiding (License required) and activities, while the other will be responsible for F&B and Rooms.
Skills required:
Exceptional Management and Leadership Skills. Ability to pro-actively work with and lead staff to ensure excellent guest satisfaction. Well Organised, strong Management Presence, Guest focused. Ability to Manage and Control Staff as per the business needs. Ability to Manage Costs. Must be willing to work hours according to Business demands. Strong admin skills. Couple must be able to adapt according to business demands.
The successful candidate must love the bush and be in a remote environment, there must be a passion for the hospitality industry. Ideally, this couple will have come from a Hotel Background and wanting to settle in a beautiful peaceful environment.
Qualifications:
Formal Guiding Qualification. Formal Hospitality Industry qualification. Knowledge of Micros & Opera will be a strong advantage.
Non- citizens applying for the position should note that in order to work in Botswana you will be required to have a Work Permit, however the company will assist successful candidates to obtain one.
WE ARE STILL MAKING CVs FOR P100. COVER LETTERS FOR P50
Pay with FNB EWallet to 76981238 or Orange Money on number 76981238
Whatsapp us on +26776981238

More Information
JOB APPLICATION DETAILS

Contact name: Natasha Nsebula
Contact email: [email protected]
Telephone: +26771778984
Fax: +2673182573


New Job Alert
Never miss a chance!
Let us know your job expectations, so we can find you jobs better!
Get daily latest jobs in your email
Get a Scholarship at IU International University of Applied Sciences for MBA, Bachelors and Masters Degrees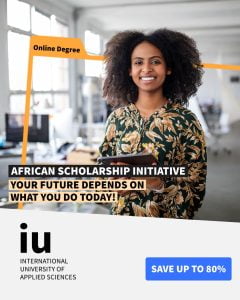 To get your scholarship click on the link below, then CLICK on Request Free Information and complete the form. After successful completion, an IU representative will contact you asking for your qualifications and details for scholarship eligibility.