MRI Botswana Limited is a citizen owned private company providing a variety of services including emergency medical assistance and pre-hospital care, emergency medical training, contact centre solutions, integrated primary healthcare services and pharmaceutical services. The company is looking for suitably qualified, experienced, self-driven and dynamic professionals for the following positions:
PHARMACIST ASSISTANT -MAUN
Main Purpose of the Job
Reporting to the responsible Pharmacist, the Pharmacist Assistant will be responsible for ensuring the proper running of the Prime Health Pharmacy.
Key Performance Areas
Customer Service, front shop sates assistance for clients and maintenance of front shop merchandising layout, pricing and cleanliness
Supervision of Cashiers, scheduling and general supervision including cash reconciliations
Reconciliation of daily transactions including cash and online transactions
Responsible for medical aid submissions; assisting the Pharmacist in charge with manual medical aid submissions and reconciliation of claims
Inventory management support; assist with stock receipt, counting and packing on shelves, stock rotation and managing medicine expiries
Assisting with courier pharmacy packaging and dispatch
Assist with maintenance of pharmacy standards as may be allocated
Perform any other duties as may be directed from time to time
Core Competencies
Knowledge and use of Microsoft Office Suites
Customer Service Orientation
Commercial Awareness
Excellent interpersonal skills
Good verbal communication skills
Organizational skills
Attention to detail
Job Requirements
BGSCE
Certificate in Accounting. Retail, Marketing or equivalent
2 years' work experience in a customer-oriented environment
Experience in a pharmacy, healthcare environment or retail environment will be an added advantage
WE ARE STILL MAKING CVs FOR P100. COVER LETTERS FOR P50
Pay with FNB EWallet to 76981238 or Orange Money on number 76981238
Whatsapp us on +26776981238

More Information
JOB APPLICATION DETAILS

APPLICATION INSTRUCTIONS:

Applications, which include a covering letter and resume ONLY should be sent to:

The Human Resources Department
MRI Botswana Ltd
Gaborone
Email: [email protected]
Please note that all applications MUST be sent via Email only. No hand deliveries or applications sent via the Post Office will be accepted.
Closing Date: 06 August 2021
Kindly note that only shortlisted candidates will be responded to.

Please say that you got this job advertisement through Jobs Botswana

New Job Alert
Never miss a chance!
Let us know your job expectations, so we can find you jobs better!
Get daily latest jobs in your email
Get a Scholarship at IU International University of Applied Sciences for MBA, Bachelors and Masters Degrees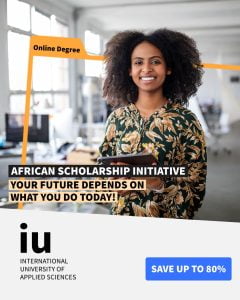 To get your scholarship click on the link below, then CLICK on Request Free Information and complete the form. After successful completion, an IU representative will contact you asking for your qualifications and details for scholarship eligibility.