Reporting to Maintenance Foreman, you shall have a responsibility to undertake reactive and preventative mechanical and fitting maintenance work for the Mill, Pasta, bakery Plants and the entire site to ensure that it runs efficiently.
Principal responsibilities shall include the following:
Undertake daily inspection of key machinery as part of the preventative maintenance program.
Complete job cards and registers as required by legislation and regulations.
Make requests for spares components for use in maintenance work.
Strip and overhaul of plant and machinery.
Maintain and repair boiler structures and water piping.
Undertake equipment and plant installations.
Ensure compliance with organisational and statutory health and safety policies and procedures in area of operation.
Studying drawings and specifications to determine suitable material, method and sequence of operations, and machine settings.
Fit fabricated metal parts into products and assembling metal parts and subassemblies to produce machines and equipment.
Check fabricated and assembled metal parts for accuracy, clearance and fit using precision measuring instruments.
Set guides, stops and other controls on machining tools, setting up prescribed cutting and shaping tools and dies in machines and presses, and setting controls for textile machines.
Form metal stock and castings to fine tolerances using machining tools to press, cut, grind, plane, bore and drill metal.
Cut, thread, bend and instal hydraulic and pneumatic pipes and lines preparing pattern mechanisms to control the operation of textile machines used to spin, weave, knit, sew and tuft fabric.
Diagnose faults and performing operational maintenance of machines and overhauling and repairing mechanical parts and fluid power equipment may erect machines and equipment on-site.
Ensure set system standards are maintained and practiced with respect to Occupational Health & Safety, Food Safety, KAIZEN and Total Quality management.
EXPERIENCE. KNOWLEDGE & QUALIFICATIONS
The ideal candidate should have a National Craft Certificate or Diploma in Mechanical or equivalent relevant Engineering Diploma with at least 5 years post qualification experience as Fitter in the FMCG and manufacturing industry.
The candidate must also possess:
Good communication skills.
Basic computer skills.
The Ability to multi-task.
Team player, self-motivated and positive attitude.
Analytic and problem solving skills.
WE ARE STILL MAKING CVs FOR P100. COVER LETTERS FOR P50
Pay with FNB EWallet to 76981238 or Orange Money on number 76981238
Whatsapp us on +26776981238

More Information
JOB APPLICATION DETAILS

APPLICATION DETAILS

KINDLY ADDRESS APPLICATIONS TO:

    THE HUMAN RESOURCES COORDINATOR
BOLUX GROUP (PTY) LTD
PRIVATE BAG X01
RAMOTSWA
Or email to: [email protected]
Closing date: 31st January 2022



Please say that you got this job advertisement through Jobs Botswana

New Job Alert
Never miss a chance!
Let us know your job expectations, so we can find you jobs better!
Get daily latest jobs in your email
Get a Scholarship at IU International University of Applied Sciences for MBA, Bachelors and Masters Degrees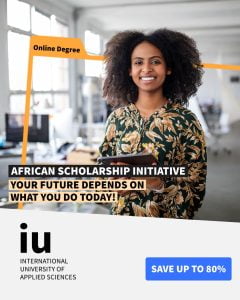 To get your scholarship click on the link below, then CLICK on Request Free Information and complete the form. After successful completion, an IU representative will contact you asking for your qualifications and details for scholarship eligibility.